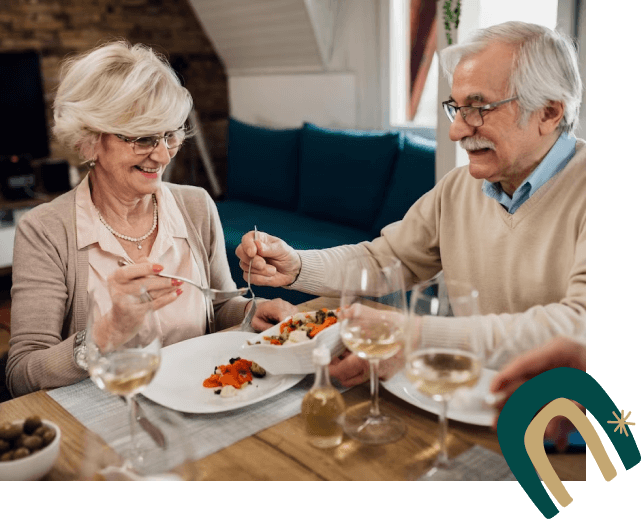 Dining
At Brythaven Senior Living, we understand the importance of social interaction and delicious meals. That's why we encourage our residents to dine together and enjoy their meals in a friendly and welcoming environment.
Meals are served when our residents are ready to eat, ensuring that they get to enjoy their food at their own pace. We partner with an external catering company to provide healthy and tasty lunch and dinner meals. Our catering team is made up of trained dietitians who carefully plan our residents' meals, ensuring that they receive all the necessary nutrients to maintain a healthy lifestyle.
To avoid monotony, our menu is rotated frequently, so our residents can look forward to exciting new dishes. We also go grocery shopping regularly to ensure that we have a variety of ingredients on hand, allowing our caregivers to prepare something special for residents who may not want the meal of the day.
At each of our communities, we believe that dining is more than just eating. It's a chance to socialize, bond and enjoy life. Join us for an unforgettable dining experience today!
Experience the Incredible Benefits of Healthy Eating at Brythaven Senior Living
At Brythaven Senior Living, we understand that healthy eating is essential to living a vibrant and fulfilling life. That's why we're committed to providing our residents with delicious, nutritious meals that offer a multitude of benefits.
By choosing to eat healthy, you'll enjoy increased mental acuteness, better resistance to illness, and higher energy levels. You'll also experience faster recuperation times and better management of chronic health problems.
Our expert culinary team prepares all of our meals with fresh, high-quality ingredients, ensuring that our residents receive the essential nutrients they need to thrive. We offer a diverse menu of flavorful dishes that cater to a variety of dietary needs and preferences.
At Brythaven Senior Living, we believe that healthy eating is the foundation of a happy, healthy life. Join us in embracing the incredible benefits of healthy eating and discover a new level of vitality and well-being.
Contact us today to learn more about how our assisted living community can help you achieve your health and wellness goals through healthy eating.